Artist Statement
How did I become so keenly aware of sharp corners, electrical outlets, and ways to injure oneself? I am a mother.
My attempts to manage or lessen these risks make clear to me the reality – so much is out of my control. This exhibition stands as a document and an examination of my response to these risks.
I took many visual cues from my son, Parker. I was inspired by the simplicity of the formal and material qualities in his own art. I used his creative practice, rooted in curiosity and collecting, as a foundation for making.
This "experiment in awareness" is not solely limited to motherhood.
Risk is present wherever we find something precious.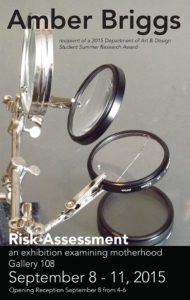 To see more images click HERE.
This exhibition was made possible by the Austin Peay State University Department of Art and Design's 2015 Summer Research Grant Award.